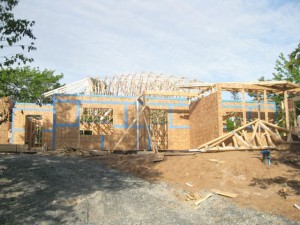 The last week or so we have been framing the hip roof on the house.  There is nothing really different in the details in this assembly for the Passive House standard. For LEED we are tracking our framing material orders and waste diversion for all the clean wood debris.  Fortunately, Halifax has an excellent facility for construction waste the recycles metal, clean wood, roofing materials and drywall.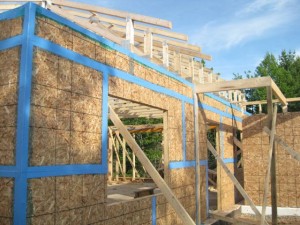 We are using manufactured trusses with a 24″ raised heel and have a bit of custom framing where the garage meets the house.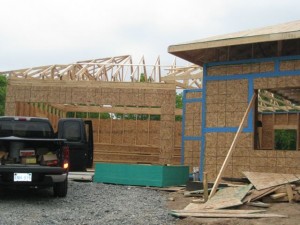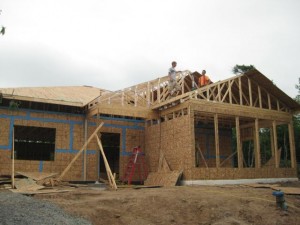 Lots of challenges with the quality from the truss manufacturer; from loading them on the walls in the wrong order making more work to organize them to making assumptions for different wall heights in the unheated parts of the house resulting in more time to install 6 additional top plates in these areas to line up the roof.  (You can see these under the front gable trusses)  Fortunately the truss company has agreed to cover the material and labour costs resulting from their errors.
Finally a roof over the slab and we will soon be independent of the weather.