Open House Times Scheduled
It has been a very busy couple weeks handling the standard construction pieces of the project:  drywall, trim, painting, siding, tiling, hardware, finishing out plumbing and electrical.  Other than extra attention to sealing around the windows and trim as an additional defense for airtightness, we have no construction methods specific to passive house for these pieces.
It is the time to focus on selecting finish materials to meet the LEED prerequisites and credits we have targeted in these areas for the project.  Low VOC paint is now available from all paint manufacturers. We have used water based caulkings and low VOC glues and adhesives which are now ready available thanks to the commercial LEED programs driving changes to product selections.
We found nice, ultra low flow showerheads; Flowise from American Standard.  Low flow lavatory faucets are from Grohe and the toilets we selected are the dual flush Ecofusion from American Standard, which also look good.
The prerequisite for drain pans under the two water heaters and the washer and condensing dryer has been an interesting journey.  I found the water heater drain pans and most building supply stores but finding the drain hose to connect to the floor drain was a challenge.  I finally settled on using sump pump drain hose.
I am having a pan manufactured by a local sheet metal fabricator for the washer dryer with the drain located to position directly over the floor drain.  The pans available were not the right size for the small washer dryer set.  The single pan will also give us a neater finish than have two pans with two hoses running to the drain between them.
We also have a big push on waste management at this stage; sorting waste before trucking it to our local recycling facility for construction waste.  We are fortunate to have this facility as they reuse and recycle a high percentage of the waste we bring as long as it is sorted.  What our project percentage will be in the end is yet to be determined but I know we have reused and recycled every possible bit we can.  I even gave away some materials on Kijiji to avoid them becoming waste.
We are in the final stages and have planned some times for open house visits for folks interested in seeing the house prior to move in by the new owner.
A key objective of the project for me has been to provide the opportunity to share a new way of building green; my passion.
If you are interested in a site visit drop by:
Sunday Oct 16:   1:00 – 4:00 pm
Monday Oct 17:  3:00 – 7:00 pm
Address: 50 Hawkins Drive, Hubley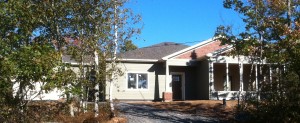 6 Comments for this entry