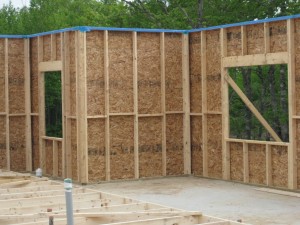 With the framing components as an integral part of the air barrier layer in the house, we need to pay more attention to the framing details for Passive House.  The use of advanced framing techniques with studs on 24″ centres also adds to the complexity.  Using one top plate means we also have to line up the studs under each roof truss as well.  Fortunately the foundation slab is very precise given us a good building base.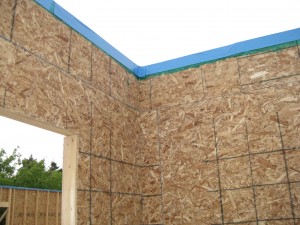 We are using an adhesive on each 2 x4 face before attaching the OSB layer to assist with airtightness.  We are also wrapping the top plate in a peel and stick membrane (BlueSkin) to transition the air barrier from the exterior of the walls to the interior of the ceiling.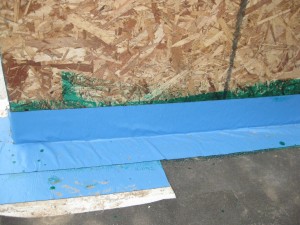 Next we will place a bead of acoustical sealant on the exterior joint of the wall and the slab before applying a layer of BlueSkin here.  Then finally BlueSkin all the seams in the OSB to complete the air barrier on the exterior walls.  Of course the BlueSkin primer and membrane must be applied in dry weather which has been a challenge.  The next dry sunny day we plan to complete all the exterior seams.
Shots of the Interior Framing
5 Comments for this entry